Japanese Pumpkin Kabocha is one of the most seasonal, nutritious and economical foods you can buy from September to November in Japan. Great time of the year to make some Japanese Pumpkin Kabocha recipes. Japanese Pumpkin Kabocha (/kəˈboʊtʃə/; from Japanese カボチャ, 南瓜) is an Asian variety of winter squash of the species Cucurbita maxima. It has an exceptional naturally sweet flavor, even sweeter than butternut squash. It is similar in texture and flavor to a pumpkin, and a sweet potato combined. Some Japanese Pumpkin Kabocha can taste like Russet potatoes. Like other squash family members, it is commonly mixed in side dishes and soups or anywhere pumpkin, potato, or other squash would be. It is rich in beta-carotene, with iron, vitamin C, potassium, and smaller traces of calcium, folic acid, and minute amounts of B vitamins. Here are some great recipes I have collected from around the web. Kabochas are very hard to peel and cut. Here is a handy video on how to peel and cut with not hurting yourself. Enjoy and Bon Appetite!
10 Great Japanese Pumpkin Kabocha Recipes
1. Kabocha no Nimono (simmered pumpkin) Recipe – Great video and recipe on this stable dish
http://www.japanesecooking101.com/kabocha-no-nimono-simmered-pumpkin-recipe/
2. Roasted Kabocha Squash Recipe – Simple recipe with a decision tastehttp://nomnompaleo.com/post/11136213353/roasted-kabocha-squash
3. Squash Soup Recipe – two very good recipes for soup
http://www.lafujimama.com/2009/06/roasted-kabocha-squash-soup/
http://karistaskitchen.com/2012/10/28/kabocha-squash-soup/
4. Soy-Braised Kabocha Squash Recipe – maximises the nutty taste
http://www.saveur.com/article/Recipes/Soy-Braised-Kabocha-Squash
5. Thai Red Curry Kabocha Squash Recipe – for curry lovers yum! perfect for the cooler weather
http://www.chow.com/recipes/30268-thai-red-curry-kabocha-squash
6. Winter Squash Risotto – my personal favorite
http://www.eatingwell.com/recipes/winter_squash_risotto.html
7. Kabocha Pork Stir Fry – one dish cooking great for the busy mom and dad
http://www.justonecookbook.com/recipes/kabocha-pork-stir-fry/
8.Roasted Pumpkin Seeds – great snack
http://allrecipes.com/recipe/roasted-winter-squash-seeds/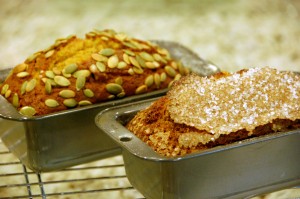 9. Kabocha Pumpkin Bread – all I can say is yum – going to make some today
http://www.the350degreeoven.com/2011/02/breads-quick-breads/the-dark-green-impostor-kabocha-pumpkin-bread/
10. Kabocha Squash Cake with Brown Sugar Cream Recipe – a moist and kid-friendly desert
http://www.epicurious.com/recipes/food/views/Kabocha-Squash-Cake-with-Brown-Sugar-Cream-239812
*******
Japanese Pumpkin Kabocha Recipes
*******
Did you enjoy this article? If yes,  please sign-up for the Best Living Japan newsletter so you don't miss any great info. It easy to sign-up just click here, and enter your email.