Chinese New Year Celebrations in Yokohama will run between February 15th – February 24th, 2018. Great fun and food! Yokohama has one of the largest Chinatowns in the world with over 140 years of history.  Although this is still quite new vs. Manila's Chinatown established in 1590 or London 's in 1700.  Yokohama Chinatown is one of the three major Chinatowns in Japan along with those in Kobe and Nagasaki. Yokohama Chinatown is a short 30-minute train ride from Shibuya. To celebrate the Spring Festival, Yokohama Chinatown will hold a variety of  Spring Festival events. You also must enjoy a great lunch or dinner at one of the more than 500 restaurants, and have fun shopping.  Here is a good article from the Japan Times on Yokohama Chinatown Restaurants.  Also, while in Yokohama visit the CupNoodles Museum, Anpanman Museum or the Overseas Migration Museum. Note to parents – It does get very crowded
so I advise against bringing your stroller. Happy New Year!
Chinese New Year Celebrations in Yokohama (February 15th – February 24th, 2018)
**Info from the Yokohama Tourism Board**
You will hear the burst of fire crackers, cymbals, drums, and Chinese gongs along with Chinese lions and dragons will dance in the festive
Chinatown. Songs, dances, and Chinese traditional performances will be held to celebrate this event.
Y154 Memorial Spring Festival Illumination and lanterns will light up the Chinatown even brighter. Please come and enjoy the festive Chinatown!
[Main Events]
◆ Countdown  カウントダウン – Thursday, February 15th from 24:00 – If you are staying local on Thursday night enjoy the midnight countdown to the start of Chinese New Year. Food, Dancing and Music to jump-start the mood of China Town.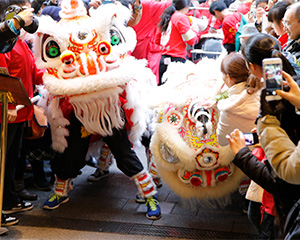 ◆ Cǎi Qīng Lion Dance
Lion will pray for the prosperity and good harvest and dance around and bite on envelopes containing congratulatory gifts of money hanged in front the stores.
Dates: February 16th, Friday, 16:00 – 20:00
Venue: All area of Yokohama Chinatown
◆ Spring Festival Traditional Performance
Lion dance, dragon dance, dance performance, songs, harp performance, acrobatics, and other traditional Chinese cultures will be performed to capture the eyes of the visitors with their flamboyant performances.
Dates: Sat, Feb 17th, Sun, Feb 18 and Sun, Feb 25th, 2018  ①14:30~15:30 ②16:00~17:00 ③17:30~18:30
Venue: Yamashita-cho Park (in Chinatown)
◆ Celebration Parade
Extravagant parade to celebrate the New Year's with costumes of the Emperor, ethnic clothing, lion dance, and dragon dance.
Dates: Saturday, February 24th, 2018; 16:00~
Venue: All area of Yokohama Chinatown
Chinese New Year Celebrations in Yokohama Details
Dates: Feb 15th, 2018 (Thursday) to February 24th (Saturday), 2018
Venue: Yokohama Chinatown, Yamashitacho, Naka-ku Yokohama-shi, Kanagawa 
URL: http://www.chinatown.or.jp/
Facebook Page: https://www.facebook.com/yokohama.chinatown/
Tel: 045-662-1252
Access: Ishikawa-cho Station on the JR Negishi Line, or Motomachi-Chukagai Station on the Minato Mirai Line. Takes approximately 30 mins from Shibuya to Motomachi-Chukagai
**********
Chinese New Year Celebrations in Yokohama (February 15th – February 24th, 2018)
*********

Did you enjoy this article? If yes,  please sign-up for the Best Living Japan newsletter, so you don't miss any great info. It easy to sign-up just click here, and enter your em